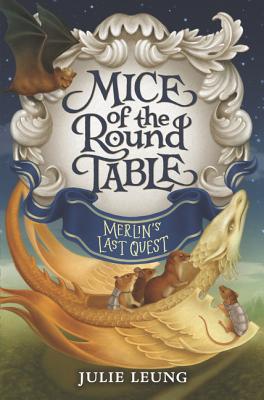 Today I'm shining the Author Spotlight on Julie Leung and her middle grade novel MICE OF THE ROUND TABLE:  MERLIN'S LAST QUEST
Title: Mice of The Round Table: Merlin's Last Quest
Genre: Fantasy

Age Range: 8-12
Launch Date: 10/2/2018
Please tell us a little bit about your book.
Merlin's Last Quest concludes my trilogy, Mice of the Round Table. After pulling the Sword from the Stone and saving Camelot from a mysterious plague, Galahad and Calib infiltrate Morgan le Fay's lair to secure the Holy Grail from their enemies.
The stars are align for a final battle that determines Camelot's fate. Calib and his friends must harness the magic of Merlin as well as the strength, bravery, and wisdom within themselves to become the mythical heroes they were destined to be.
What inspired you to write this story and/or these characters?
I loved the Redwall series by Brian Jacques with a fierce, probably obsessive passion. To this day, the mere description of potato leek soup and anything with the word trifle in it sends nostalgic shivers down my spine. And like any budding fantasy fiction fanatic, Arthurian legends were a gateway drug. These kinds of books made me who I am today. Mice of the Round Table is the perfect marriage of those two early loves.
Everyone says writing is a process. Could you share a little about your writing and/or research process?
Even though I find myself always changing my outlines, it has helped me immensely to set a destination in mind when writing—or even multiple destinations, like a road trip. I package my writing goals in small sprints, scene-to-scene, chapter-to-chapter. It keeps my fingers moving on the keyboard and makes drafting feel less daunting.
We know no writer is created in a vacuum. Could you tell the readers about a teacher or a   librarian who had an effect on your writing life?
I think often about my experiences growing up in the public education system—its many pitfalls, classroom distractions, and budget constraints. And yet, the English teachers who taught me gave it their all. In the 10th grade, one of my literature teachers read an essay of mine out loud to the class. It was a simple 5-paragraph glorified book report on the Elie Wiesel book, Night. However, it was the first time I'd ever heard my words being read out loud by someone else. It was the first time I thought I could make a career out of writing.
What makes your book a good pick for use in a classroom? Is there any particular way you'd like to see teachers use it with young readers/teens?
In the practical sense, I like to think of my series as a gateway to the Redwall series, as well as to the larger body of Arthurian legends. In a more poetical sense, I wrote Calib's story as an examination on navigating familial, societal, and self-imposed expectations. How does one carve out one's own legend against a backdrop of outside influences? How does one find the courage to become their own person?
I'm a little dog obsessed here at www.patriciabaileyauthor.com. Would you tell the readers about  your favorite dog (real or imaginary)?
My husband and I have a dream of getting a Boston Terrier one day and naming him, Admiral Ackbark. He exists only in our hearts and imagination currently.
JULIE LEUNG was raised in the sleepy suburbs of Atlanta, Georgia, though it may be more accurate to say she grew up in Oz and came of age in Middle-earth. She works in book publishing as a digital marketer. In her free time, she enjoys furtively sniffing books at used bookstores and winning at obscure board games. Her favorite mode of transportation is the library. You can follow he on these Internet tendencies: Twitter, Instagram, and Goodreads.
You can learn more about Julie and the other books in the MICE OF THE ROUND TABLE series by clicking on this interview I did with her about Book 1:  A TAIL OF CAMELOT and this Guest Post Julie did about Book 2:  VOYAGE TO AVALON.
You can buy Julie's books at your favorite independent bookstore.
Thanks, Julie!